How Dragons increased online sales through enhancing their product page information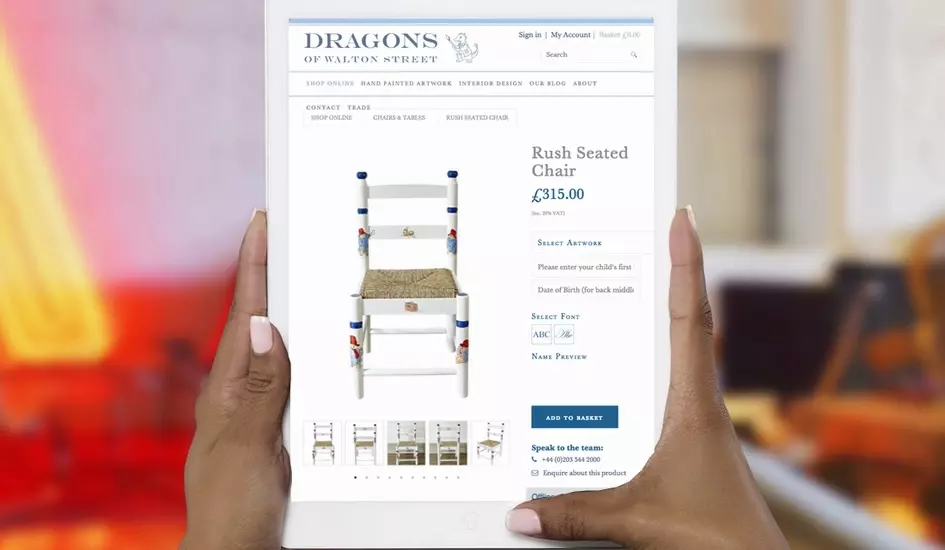 Dragons Of Walton Street sell high quality, bespoke children's furniture. As with any high-value purchase, a customer will naturally have questions and require particular information about a product prior to purchasing. This meant that their product pages were attaching a lot of traffic but then experiencing a high drop-off rate as customers reached the product page and then clicked to call, or sought information elsewhere, rather than converting.
Working with the team at Dragons, we made many tweaks and additions to the product page and it's great to hear the feedback of how this has helped their sales.
How can you find out what your product page 'drop off' rate is?
You can find out what is happening on your product pages by looking at your website statistics. If you're using Matomo Stats, you'll need to search for the page using the iPages page number (found in the URL). The statistics that are probably the most helpful is the page 'bounce rate' i.e. the % of visits which started on this page and then left the page, the average time on the page (a longer time could show more interest) , the page generation time (how long to load), and then the exit rate (% of people who left the site after visiting the page).
As the page is a product, you can then also look at the conversion rate of that product i.e. what % of people purchase the product after viewing.
What causes a high drop off rate on product pages?
There are many reasons why your product may not be converting and has a high drop off rate. For Dragons, this was largely around having particular infomfraiont about the product personalisation i.e. the style of the hand-painted name.
However, for your site this may be different and here are a few reasons customers may be leaving your site, listed with their symptoms:
| | |
| --- | --- |
| Reason for leaving product page | What Statistic should I check? |
| Page took too long to load | Check your 'average generation time' and your site speed as a whole |
| Lack of information | The exit and bounce rate high, the average time on the page could be high or low. |
| Lost interest/Page is not engaging enough | The average time on page will be low and your bounce rate high. |
| No clear call to action | The average time on page is high but the exit rate is high, and conversions are low |
What amends did we make to the Dragons product pages?
Following discussions with Dragons and looking at their website statistics, we helped identify ways in which the product page could be amended to help increase conversions. Listening to their customers and looking at their behaviour, we identified three areas for improvement:
1) More information & improved imagery
Dragons identified that customers required more information about their products. They therefore undertook the task of photographing their entire range and enhancing the product descriptions.
2) Visible choices & preview of the product customisation
The Rush Seated Chair, for example, comes in a number of different hand-painted artworks, with customisable names on the product. It was therefore hard to visualise the product (particularly how your child's name would look on the chair) and know what you'd be getting.
To help give the customer a better understanding of what the chair would look like, we added the customisation options and a preview of how a child's name would look on this.
3) Clearer calls to action i.e. calls and contact
Dragon's identified that their customers would also like to speak to someone or make an enquiry, prior to purchasing, as this is all part of how they like to engage with the Dragon's brand. We, therefore, elevated the call to actions for enquiries and helped make these more visible to visitors.
You can view their Rush Seated Chair here and see the end product page.
What difference did this make?
Following the website amends, Dragons have noted a remarkable difference in their product enquiries. On the Rush Seated Chair, they would previously have had enquiries asking about dimensions, the style of the writing and the dispatch times whereas now firstly, there are fewer phone calls but there are also more substantial queries when they do come.
The page bounce rate has decreased by 10% and the time on the page has increased, showing that users are engaging more with the product.
"Our hand painted personalised rush seat chair has always attracted many enquiries and has been a time-consuming product to present to clients due to its bespoke features.
After committing to the photo shoot, and working with iPages, this product now sells really well online and is very easy for the client to choose their personalisation features. It has removed lots of work from our sales team because the online presentation really works. We are delighted!"
- Simon Croft, Sales Director, Dragons of Walton Street
Can we help further?
If you'd like further information about how we could support your online sales, do not hesitate to get in touch with our team.