M.Saltmarsh Latest eCommerce Website on new iPages!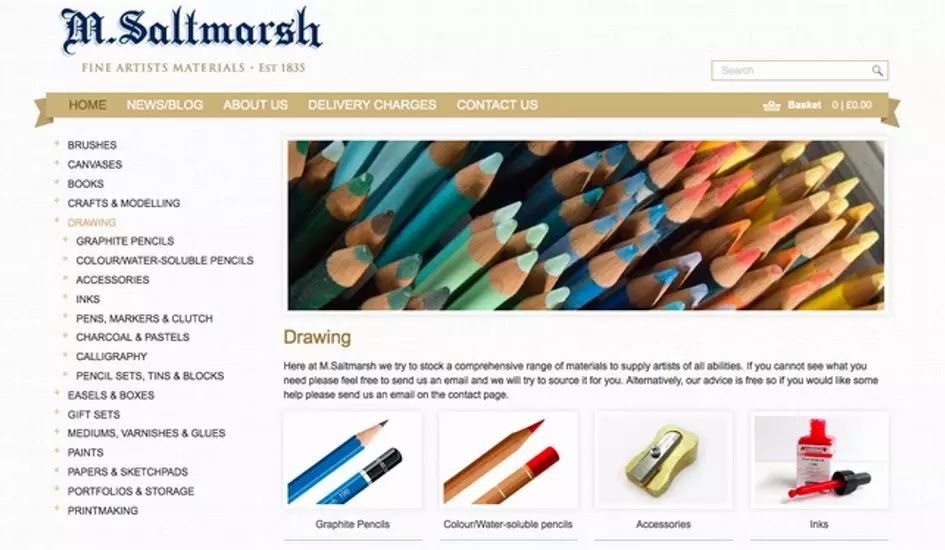 At last M.Saltmarsh, specialised suppliers of artist's materials and craft items has gone live! Hats off to Mike Drew for his amazing design skills and patience as he created this beautiful eCommerce website!
Back in way back when Drew called us and asked if he could create an eCommerce website for his family's artist shop in Tunbridge Wells, Kent. It is a shop where artists can find precisely what they need, and it is bursting full with wonderful specialist materials, as well as everything that any artist or craft person would need.
We were excited about the project as Drew is an outstanding graphic designer and wanted to work with us to create the new look for the website. However, we were even happier when we found out that he was ok to wait for the new iPages eCommerce software to be finished so that he could develop M.Saltmarsh within the new solution.
So the new site is ready to buy from. It has variants (and images that match the variant chosen by the customer), list views, stock control, accounting that works with SAGE, and a simple CMS that he can use himself. There are also the normal things that you would expect in an art shop such as brushes, acrylics, oil paints, watercolours, varnishes, sketch pads, easels, and canvases! We are particlualy pleased with the list view that shows how well the new iPages can perform.
If you are looking to upgrade your eCommerce website and have a design in mind why not call us today to see how we can help you.