eCommerce Website Solution from iPages increases Sales & Enhances Marketing Possibilities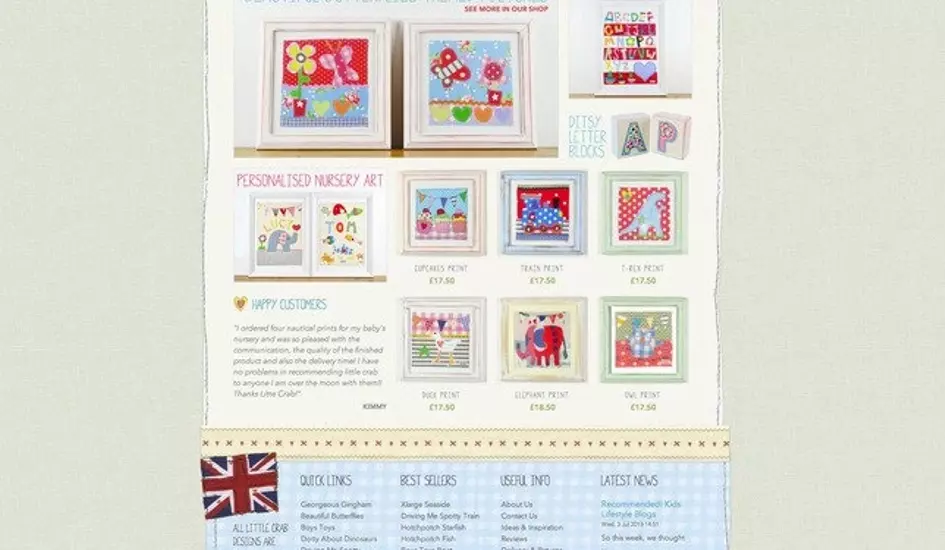 Little Crab Designs is going from strength to strength with sales and awards. We can't claim that this is all down to iPages' eCommerce website because Little Crab Design's owner has been busy tweeting and promoting her wonderful business, and picking up awards and nominations from all over the place! However, we know that the new design of Little Crab Designs has certainly helped!
We are particularly pleased that the website has won a gold award from mumpreneur UK for having a website that is visually pleasing, easy to navigate, have a simple payment process, be clear and easy to understand, and have lots of information on products. And just as excitingly Little Crab Designs has been approached by The Guardian to enter the Home Business Innovation Award. Wow! That is amazing!
Little Crab Designs launched at the beginnning of June, and Anna Saegar, owner of Little Crab Designs has been overwhelmed by the response to the website. Excitingly Anna was chosen by Jacqueline Gold's #WOW winner a couple of weeks ago and the website certainly helped with this.
Little Crab Designs specialises in nursery wall art and wanted a very bespoke website that reflected its branding. With Emma Simpson on board as iPages' in-house designer we were able to create a fabulous website that is rich in functionality that looks gorgeous.
The new iPages has all the benefits of the existing iPages, but now includes attributes, reviews, wish lists and improved usability. We have also improved our urls so that they are more search engine friendly and the admin section is far more comprehensive and intuitive.
So if you are looking for an eCommerce website that stands out from the crowd, is affordable and rich in functionality why not call us and see how we can help you.
Well done Anna for showing how a home business can make the most of social media and the web to promote yourself and well done iPages for releasing new software that makes selling online so simple for the smaller business!