Solving the Challenge of B2B/B2C Websites - What Did We Do For Karen at De Jager?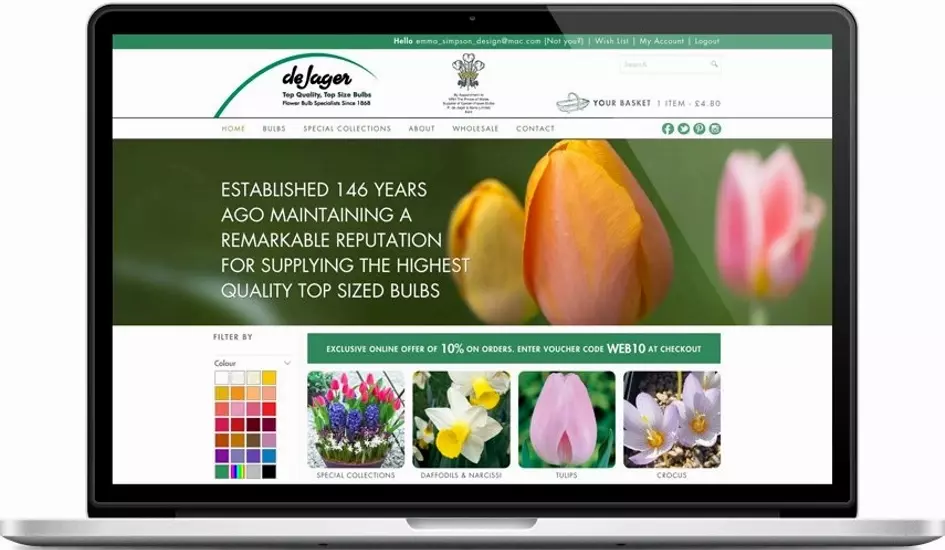 We wanted to share with you some of the benefits of being a Khoo System's client and what happens when you set us a difficult and challenging problem.
Having just launched de Jager's website, we thought we would share the journey with you to help illustrate the service our client's receive.
Case Study: Dejager's fresh feel
The plant and bulb specialists de Jager have worked with Khoo Systems Ltd since 2007 and use our iPages software to run multiple websites. As with many of our clients these sites include B2B and B2C sales.
The Current Challenge
One of the challenges that Karen at de Jager faces is uploading an enormous bi-annual catalogue of bulbs onto her trade and retail websites. And moving onto the new software this challenge now included putting in attributes for over a thousand products! As expected the bulbs are sold at different quantities and prices for trade and retail, and retail customers are not able to see wholesale prices!
A Plot Twist
Initially we wrote software to accommodate both wholesale and retail customers buying from one website. However, because our software includes integrated accounts, we felt that this was not the best solution for de Jager. We called Karen and explained that as de Jager wants to have a site that has prices entered inclusive of VAT for retail, but exclusive of VAT for wholesale that it was better to separate the sites out.
With only 3 days till the catalogue went out the pressure was on. We needed to develop a means of using the consumer website to create a sister wholesale site and a way of updating the wholesale website from the consumer site!
The Solution
Many late nights, lines of code and a weekend later, we are so proud to have launched the Dejager consumer website (with all the historic accounts information!) and given Karen a ready-made trade website (all products included) to finesse for imminent release. Not only did the release require developments for migrating the website accounts, the development team also went over and above to create a means of linking the website to mirror and update products, quantities, and prices.
All in all, we are so pleased to have provided Dejager with a website setup that meets their needs and look forward to seeing them grow (no pun intended) online.
If you would like more information about benefitting from any of the features mentioned or have any questions about our developments, do not hesitate to get in touch below.