iPages launch the EV Cables Consumer eCommerce website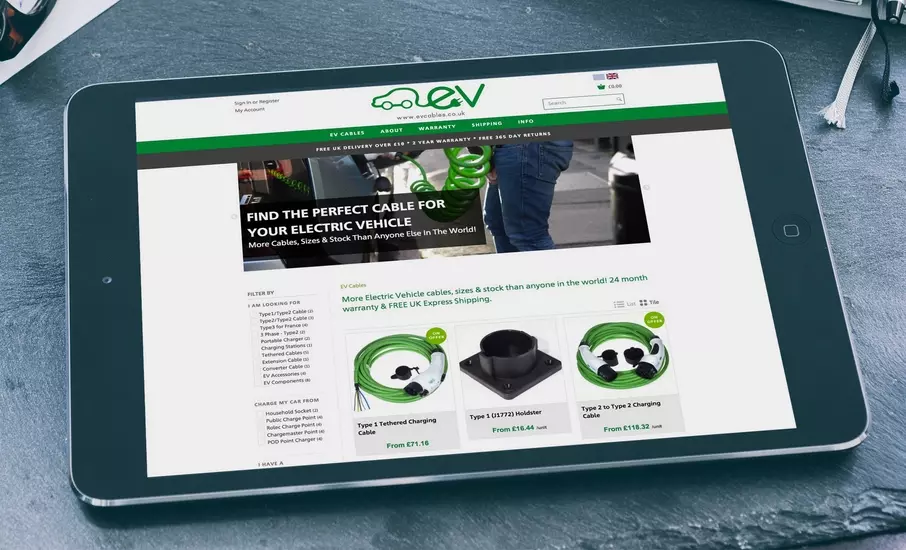 iPages are proud to launch EV Cables (www.evcables.co.uk) UK based Electric Vehicle experts who are committed to providing the right cable for your electric car.
EV Cables are an eCommerce company that specialises in the complete range of electric vehicle connectors and charging cables.
The Challenge
EV Cables sell across multiple channels; their own website presence, directly to Amazon and via Amazon Seller and eBay. Managing orders and stock across these multiple channels was a strain and taking up the majority of Richard Lim's (EV Cables founder and owner) time. "I was almost giving up on our website" said Richard, "it was just taking so long to process orders and stock, especially processing Amazon Vendor purchase orders"
EV Cables presented iPages with the challenge of streamlining their business processes. The EV Cables team dream was to have the website system manage their entire order process for them, so that they could spend more of their time on product innovation and building sales.
EV Cables required both a consumer and wholesale presence along with integration to Amazon Vendor, Amazon Seller and eBay.
The iPages Solution
The innovative iPages team got to work on all fronts and enabled the following solutions for EV Cables:
Development/Integration
The development team were busy enabling the following integrations for EV Cables:
Integration with Amazon Vendor - read more about this at www.khoocommerce.com
Integration with CDL Logistics
In addition to this, the following built-in integrations were vital:
Linked Consumer and Wholesale websites
Linked Facebook account
Google Analytics/PIWIK Webstats
Design/Functionality
The EV cables consumer website is now fully branded with a clean, searchable website design. The website benefits from the following features:
Attribute Search filters: Each product has been tagged with relavent 'attributes' such as 'Compatible Cars', 'Car Type' etc. This enables customers to quickly identify which cable to purchase for their car.
Branded design: The entire design is branded for EV Cables, with their clean, eco-looking, green branding.
Highlighted USPs: The unique selling points for EV Cables have been highlighted as Free UK Delivery, 2 Year Warranty and Free 365 Day Returns.
Reviews: Adding reviews for each product to enable user generated content for each product and provide opportunity for customer feedback
Attribute Folder views: Guiding customers through the sales journey with tailored information on each attribute folder.
SEO
In addition to all the development and design work, iPages also provided the following SEO features
SEO Fields completed: Adding unique meta titles, URLs and meta descriptions for each page to aid optimisation.
News/Blog feed: Enabling a news feed for latest EV cable news
Sitemap: Adding a site map and submitting this to Google.
The end result of all of these features is a fantastic all-round online presence for EV Cables that not only looks good but also runs their business in the backend through an integrated approach - accounting for all their operations and online marketing.
Interested to find out more?
If you'd like to know more about the EV Cables website setup and whether you could benefit from a similar solution, do not hesitate to get in touch.