Do One-Page Checkouts Increase Sales?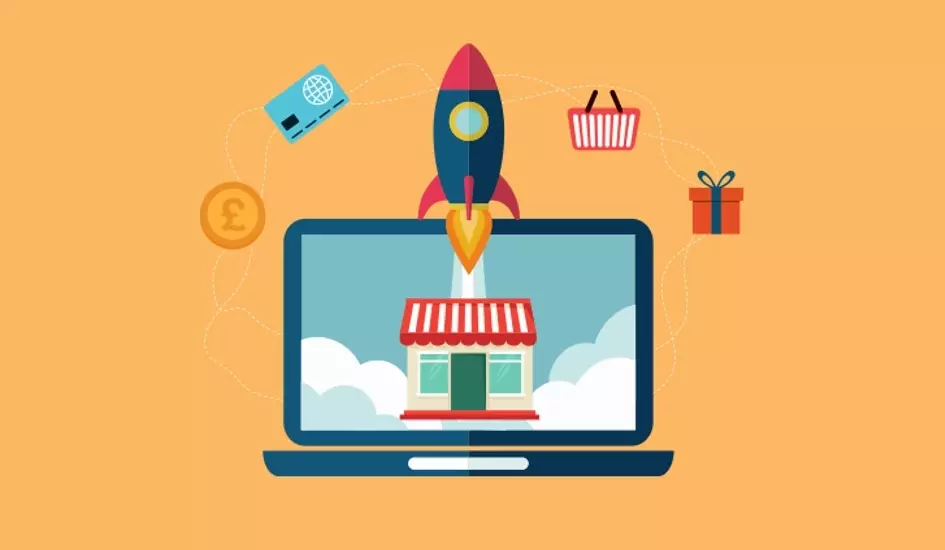 iPages shall shortly be releasing an update which includes a one-page checkout. In this blog, we'll take a look at what that means, why one-page checkouts are used and how this could help your conversions. On balance, research suggests that checkout layout can have an affect for certain purchases however, if a customer truly wants your product, even a longer checkout will not deter them. The current iPages checkout with a 5-stage wizard has served us well, and we are excited to be releasing new functionality.
What are one-page checkouts?
A one-page checkout is a single page for the whole purchasing process. They have recently become more and more popular with customers expecting their shopping experience to be simple and easy. However, one-page checkouts also face challenges, especially with the design and usability problems that can arise from the need for a large amount of information all on one page.
Who uses one-page checkouts?
One-page checkouts have been used successfully by massive businesses with great success, here are some of our favourites.
ASOS is a British online fashion and beauty store that is aimed primarily at young adults. The ASOS website has a one-page checkout that, after creating an account, customers can complete their orders quickly, all on the same page. The checkout remembers the address, contact information and payment details for their customers and lets them check out even faster the next time they buy on ASOS.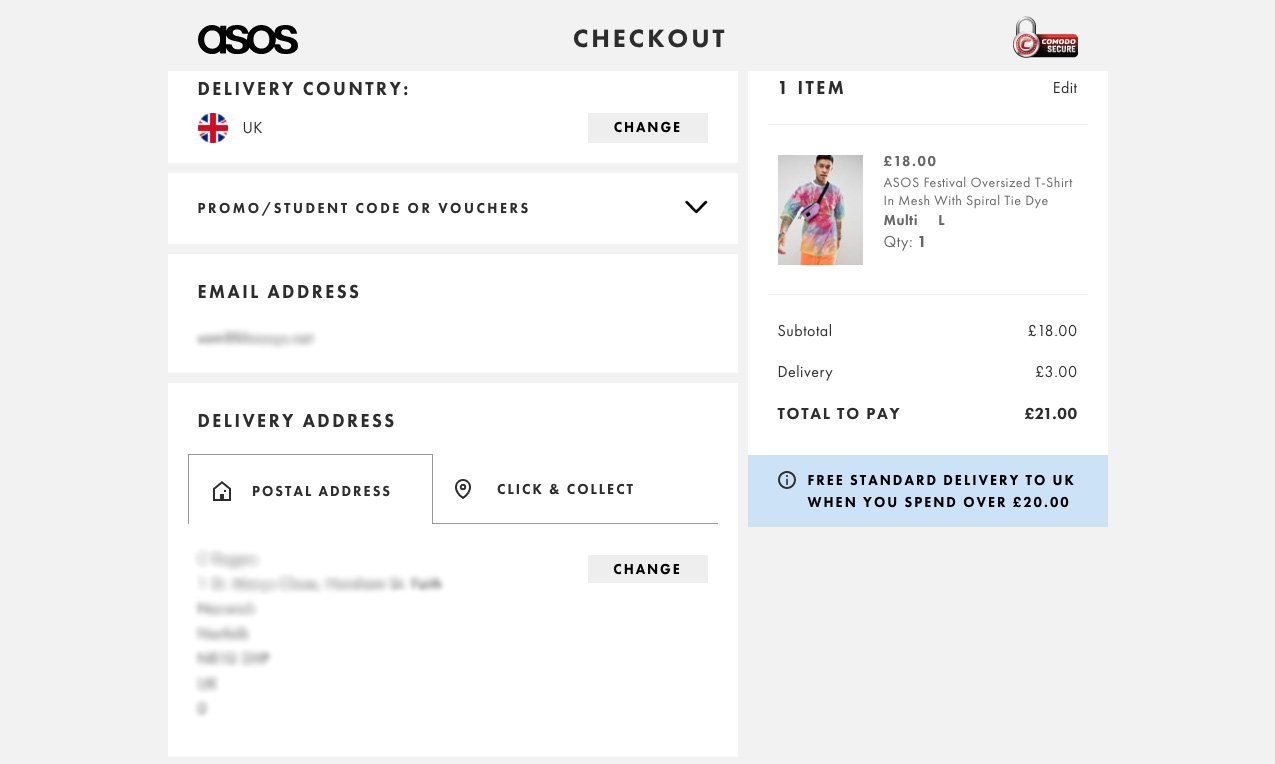 Selfridges is a chain of high-end department stores in the UK. Similarly to ASOS, Selfridges uses a one-page checkout to make the shopping experience for customers, who have signed up for an account, easier and more streamlined. The checkout also remembers the details customers have entered so that returning customers will have an even easier time going through the payment process.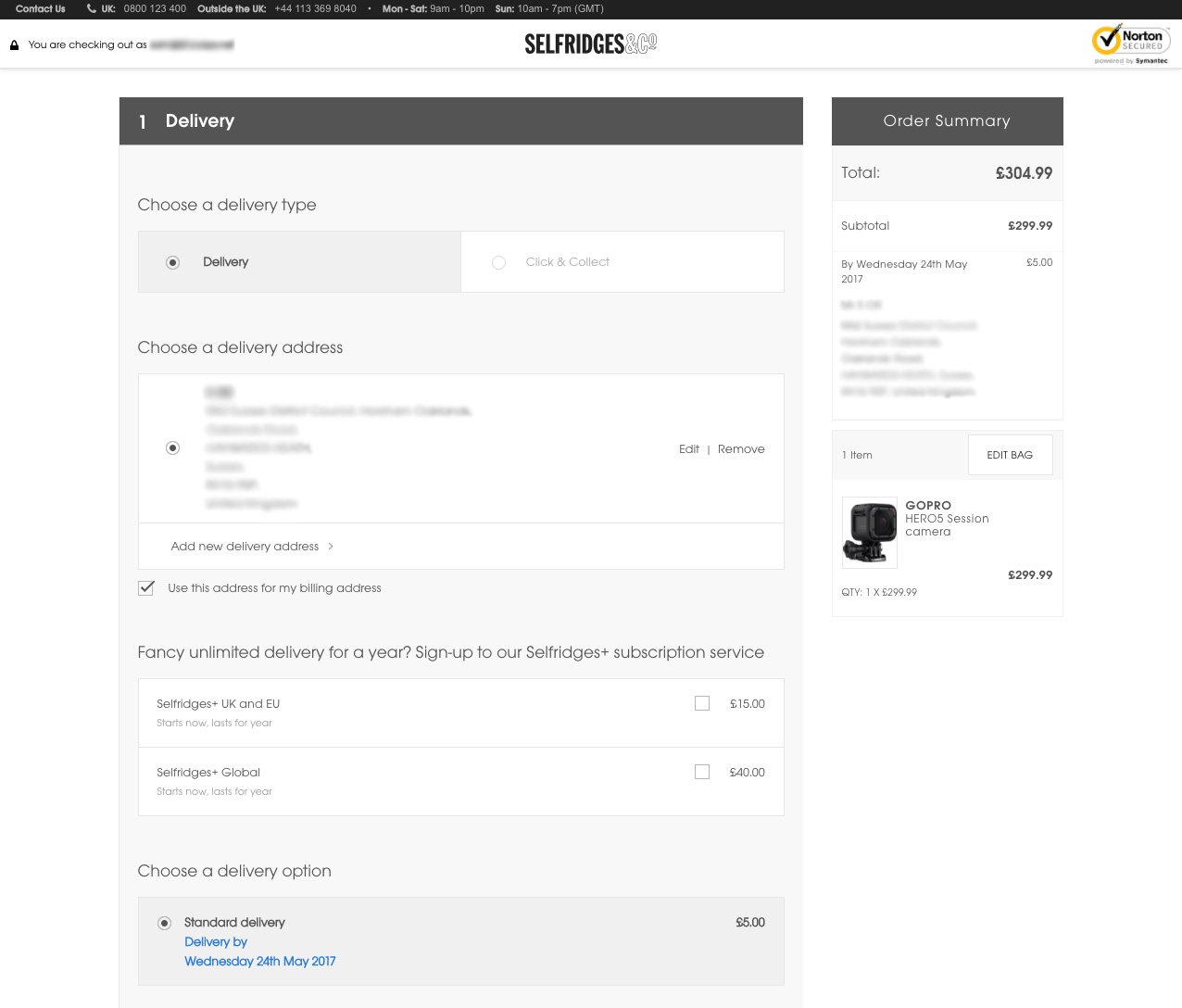 Mulberry us a luxury fashion company founded in the United Kingdom but is also known internationally for its leather goods. Mulberry has the option for a guest checkout as well as a checkout for their customers who have an account with them. Both checkouts are one-page but only the checkout that requires an account will remember the details for returning customers to have an easier time getting through the payment process.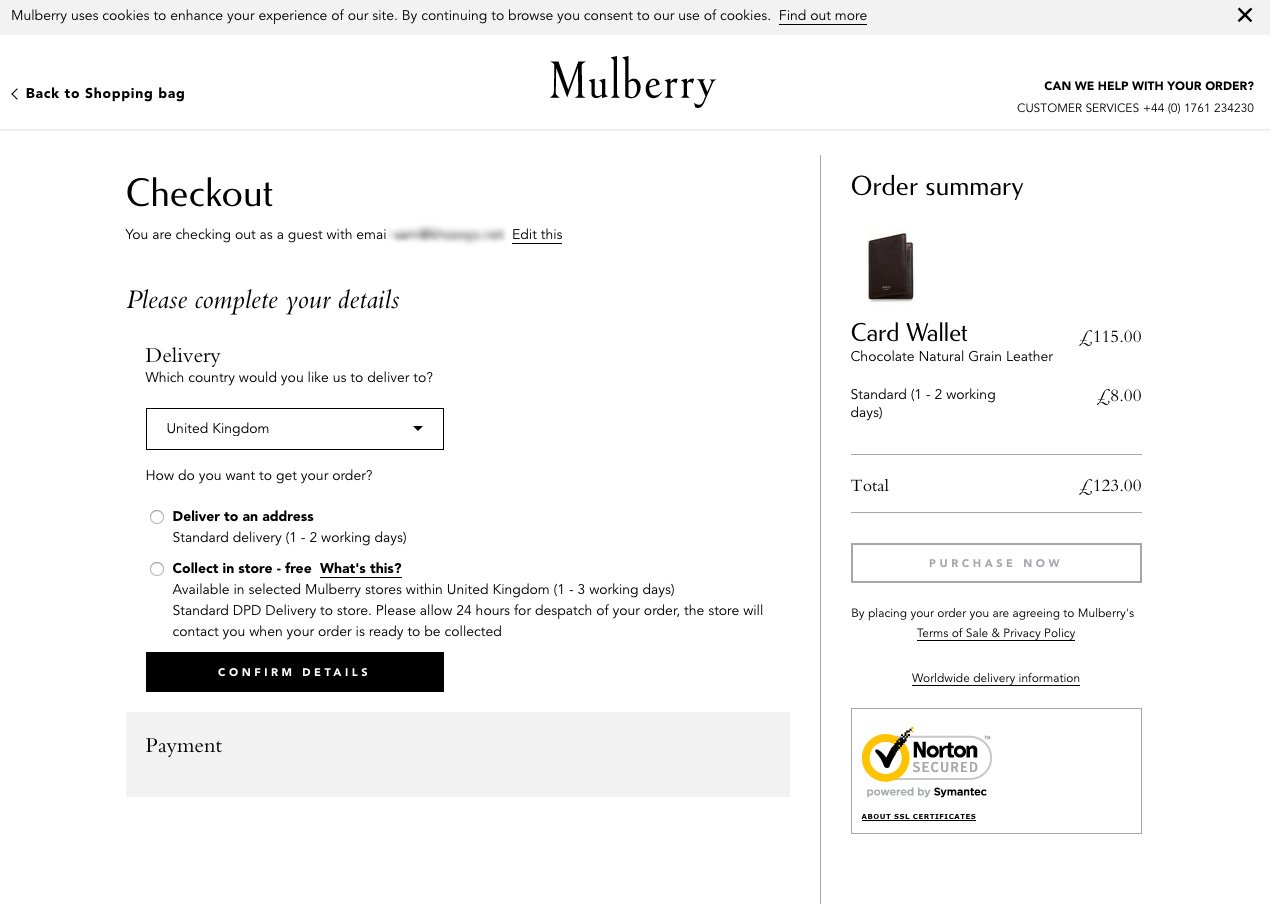 Why are one-page checkouts good?
It's Fast
Even though the number of form fields is pretty much the same between a one-page and multi-page checkout, it is still much quicker for a customer to fill out the forms on a single page because, with a multi-page checkout, the page would need to refresh between each step and would increase the chance of the customer getting impatient and bouncing.
All iPages websites are optimised for the fastest site-speeds, so even with a multi-page checkout, the process isn't too much slower. Find out how page speeds affect your website with this blog post.
It's Streamlined
With a one-page checkout, your customers can see exactly how far along the checkout they are and how many more fields they will need to fill out before they're done. This gives your customers a small psychological boost that will help to motivate them to complete the payment process. Compared to multi-page checkouts, one-page checkouts require a lot fewer mouse clicks and both one-page and multi-page checkouts can take advantage of abandoned cart marketing emails.
It's In One Place (Navigation)
One of the best things about one-page checkouts is that there aren't really any navigational elements. All of the fields are on the same page so there is no real need for the customer to go back using the browser. However, in a multi-page checkout, this might cause some problems, especially if customers return to the original page and find out that they have to re-enter all the data.
How eCommerce Solutions do One-Page Checkouts
Woocommerce is a plugin for WordPress that lets users turn their website into an eCommerce store. Users of Woocommerce can choose to pay for a more expensive version of the plugin that has the one-page checkout available. Once this version of Woocommerce is integrated with WordPress, the checkout can be made with built-in and custom templates.
With Magento, one-page checkouts can be enabled under System > Configuration, scrolling down to the Sales section and then clicking on Checkout and setting Enable Onepage Checkout to Yes. It is recommended for Magento users to use extensions, like the IWD Extensions One-Page Checkout or the Amasty One-Step Checkout, to make the checkouts a better experience for their customers.
Within iPages, the one-page checkout will be built into your website so, as with other features, there is no need for plugins to benefit from this. The one-page checkout will also allow guest users to checkout and create a swift, seamless experience for users.
Not only will this increase usability but we have also retained the ability to send Abandoned Cart emails. This will allow you to target those who abandon the checkout process, after filling in the first sections.
Case Studies
There are numerous case studies from around the web on how one-page checkouts have affected usability however, here is one from the Vancouver Olympic Store.
The people at Elastic Path Software rework The Official Vancouver 2010 Olympic Store to see if a one-page checkout would be any more effective than the multi-page checkout that the website already had. They decided to test the effect with an A/B split test where they sent 50% of the traffic to the original checkout and sent the rest to the new one-page checkout. After 300 transactions, Elastic Path Software could see a clear winner and they stopped their test after 606 transactions. Google Web Optimizer concluded that the one-page checkout outperformed the multi-page checkout by 21.8%.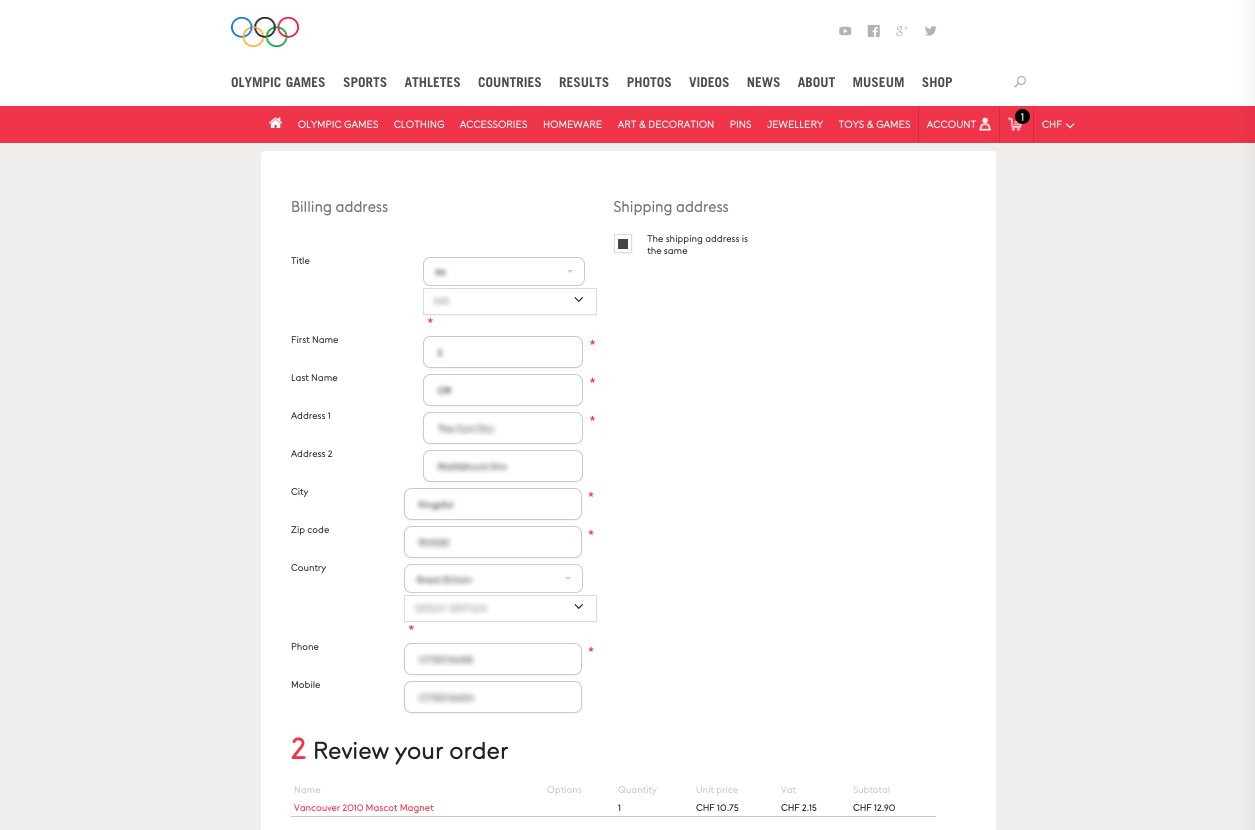 This case study shows that a one-page checkout can have a huge effect on the completion of the payment process from your customers. Although 21.8% is an impressive out-performance, results from other A/B tests might be different, so depending on the product and target market, your results could be different.
(http://www.getelastic.com/single-vs-two-page-checkout/)
Conclusion
One-page checkouts can help to aid conversions on your eCommerce website but customers who are keen to buy your products will be likely to complete the payment process regardless of the checkout.
iPages are excited to announce that we are launching our one-page checkout to all our iPages eCommerce stores. If you want any more information about the iPages one-page checkout or if you have any eCommerce questions that you want answering, please do not hesitate to contact us.