How a Website Re-design helped give a 68% increase in Visitors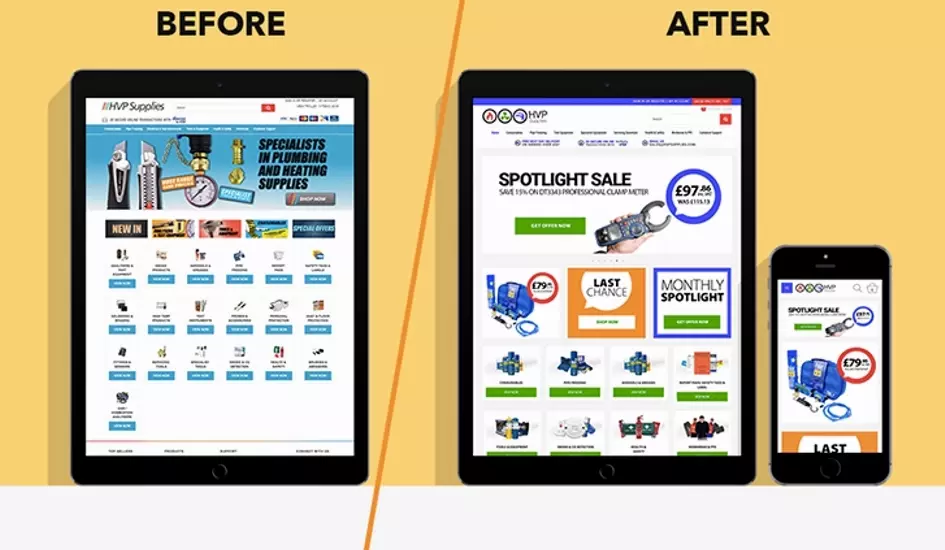 HVP Supplies have a longstanding relationship with iPages that started in 2003. So when it came to refreshing HVP Supplies' branding and website design, iPages were only too happy to help.
What did iPages do?
HVP sell Gas Safe and Heating products and plumbing supplies. This is a highly competitive market with a particular demographic. Taking the new HVP brand look/feel, the iPages team ensured the new website reflected the modernised brand and matched the demographic, whilst making the website mobile-friendly. The old HVP website was not responsive and therefore it was essential to ensure that the new site was highly usable for mobile visitors.
Through a process of providing new website mock-ups, and carefully managing the website re-fresh (whilst live!), the iPages team managed to give the HVP website a facelift without any downtime or disruption to service.
What were the results of the website redesign?
The website re-design has helped contribute to a number of improvements in how customers are interacting with the HVP website, with the following results, when compared year on year:
a 68% increase in website visitors
an increasing the amount of time spent on the website from an average of 2 minutes to 4 minutes 30 secs.
an increase of 10% of visitors from mobile devices
a decrease in the average screen size being used by a visitor (from 1920x1080 to 1366x768)
Some of these results reflect the nature of how users have changed their website browsing patterns - across many websites we are seeing an increase in mobile users and a decrease in the average screen size. This places an even greater importance on ensuring your website is mobile friendly and usable on multiple devices.
The results around website engagement are particularly encouraging as it shows the re-designed website is creating a better user journey throughout the site, which leads to higher conversions.
What do HVP Supplies say...
"I couldn't be happier with, or more highly recommend, the team at iPages. Through our site redesign they've been an amazing asset; they really listened to what we were hoping to achieve from the site, and have worked in constant contact with us, assuring that we are happy at each stage.
Unlike many other companies their involvement didn't end as soon as we had finished briefing on our requirements and they continue to provide great instruction and guidance – they're always looking for ways to improve ours and the customers' experience.
The team have delivered a fantastic looking site, and have helped us to more effectively manage and run it! Thank you iPages!"
- Mariah LeRoy, HVP Supplies
Could a website redesign help your business?
A website re-design is not a magic bullet or to be considered in isolation however, it can have significant benefits for your business through increasing website engagement and ensuring you are continually meeting the needs of your target customer.
It is imperative that your site is mobile friendly and matches your current branding, so do not hesitate to get in touch if you'd like to find out about how a redesign could help your business.