iPages announces partnership with PriceSearcher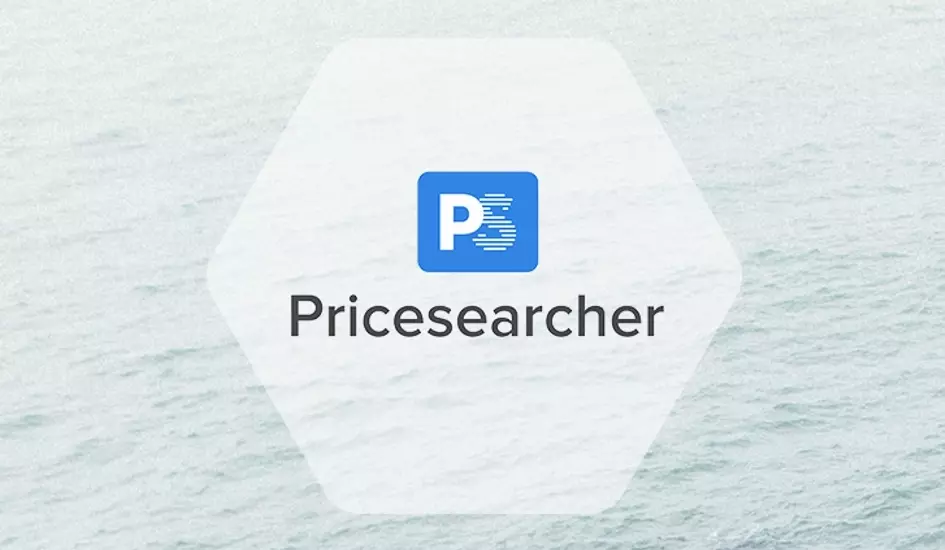 To help our clients increase their product visibility, iPages are now partnering with Pricesearcher. To submit your feed to Pricesearcher, simply follow the guide below, or get in touch with our support team on how to do this.
Pricesearcher's mission is to provide access to all the world's prices in one place. They believe that users should have an unparalleled view from all sources across the internet to discover the products and services that meet their needs.
Here's a bit more about Pricesearcher...
Why has iPages partnered with Pricesearcher?
Here at iPages, we are always looking for ways to support our clients online and increase your online sales. One of the ways to promote your products is by listing them on multiple channels, search engines and sites. So, to this end, we're keen to help you add your products to this free and unbiased product search engine.
Is Pricesearcher a price comparison site?
No, Pricesearcher is a search engine. Their aim is to provide access to the prices of the world, and they already have over 1.2billion products indexed. Price comparison websites differ fundamentally from the Pricesearcher model: they charge for traffic on a Cost Per Click (CPC) or on a revenue share model, and they are only able to compare prices from retailers who they have as clients.
This means that ultimately price comparison websites are only able to compare a limited range of products where sufficient margin exists to cover the marketing acquisition costs, whereas Pricesearcher is a search engine that sends organic traffic direct to all retail partners who supply them with a product feed.
Why would a customer use Pricesearcher instead of Google?
Pricesearcher is focused on prices and differs from Google in several respects, for both consumers and retailers. For a consumer, they are vertical specific, and so you can review a product across high street retailers, pureplays, marketplaces, and price comparison sites all in one place, without having to use multiple pages and multiple search queries.
When Pricesearcher receives a product feed directly from the seller they are able to serve accurate, structured information to the user, including buying guides, reviews, a store locator, shipping and returns policies, and also provide a summary on the seller.
Pricesearcher integrates a price tracking tool within consumer searches too, which gives the user information in terms of historical price movements over the last 30 days. As a result, users of Pricesearcher convert at more than double the rate of organic traffic from other search engines (based on tests with a sample of retailers – Oct 2016. Google organic converted to sale at 1.1%, Pricesearcher organic converted at 2.4%).
How much traffic does Pricesearcher attract?
The beta version of the site went live in July 2016 and since then they are now seeing over 1million searches a month with a growth rate of 47% month-on-month. Each new user does on average 4 searches per visit, and there is a click through rate of 65% on average (Feb 2018 data).
"We are very pleased to be partnering with iPages, and we hope to provide the iPages' retailer family with an indefinite source of organic consumer traffic. We've sent over £110million in product click outs to the sellers and retailers in our search engine so far this year, which is crazy considering we're still in beta.
iPages is a fantastic solution that empowers retailers, and by partnering we hope to grow our combined traffic as we add in interesting new category retailers and verticals." Sam Dean, CEO Pricesearcher
How do I submit my iPages product feed to Pricesearcher?
You can visit the merchant hub to upload your product feed directly. If you need to find your product feed, you can follow this simple guide and if you have any trouble, simply speak to the iPages team at support@ipages.biz
Finding your product feed
Finding your product XML feed could not be simpler. In fact, it's the same feed as is submitted to the Google Merchant Centre. This can be found under Products > Settings > Data Exchange > Google Products.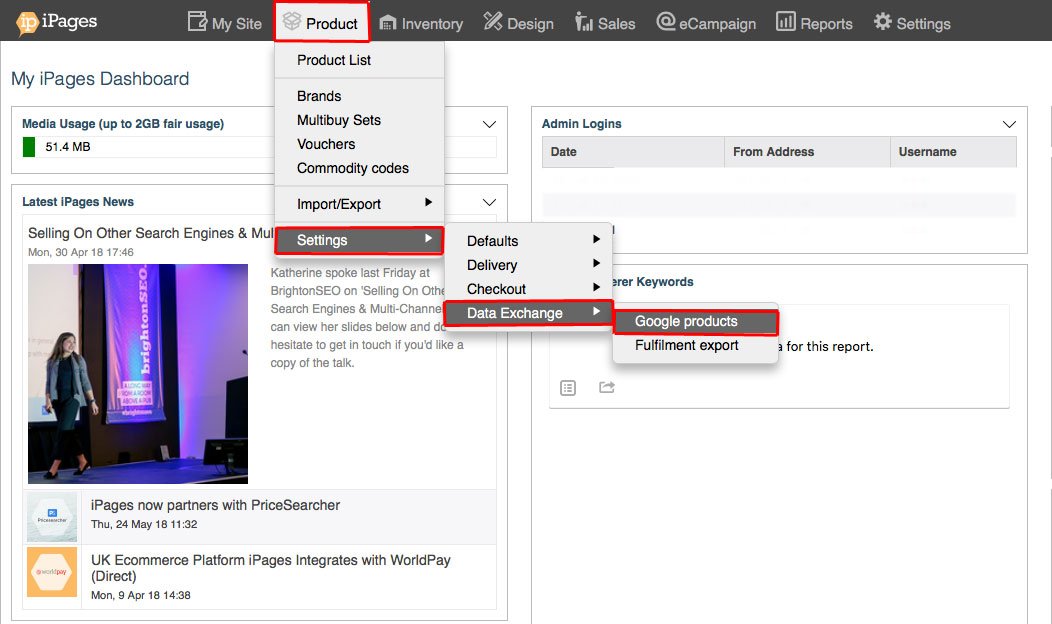 Your XML feed URL will then be visible within the information box. This is the feed to submit to PriceSearcher within their merchant hub.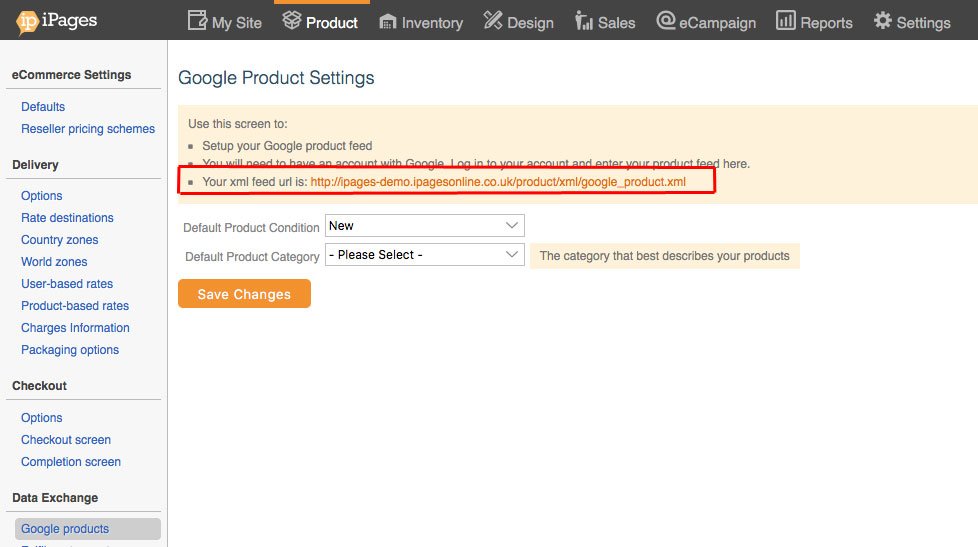 If you have any further questions, simply speak to the iPages team at support@ipages.biz