Marketing Lessons Learned from the World Cup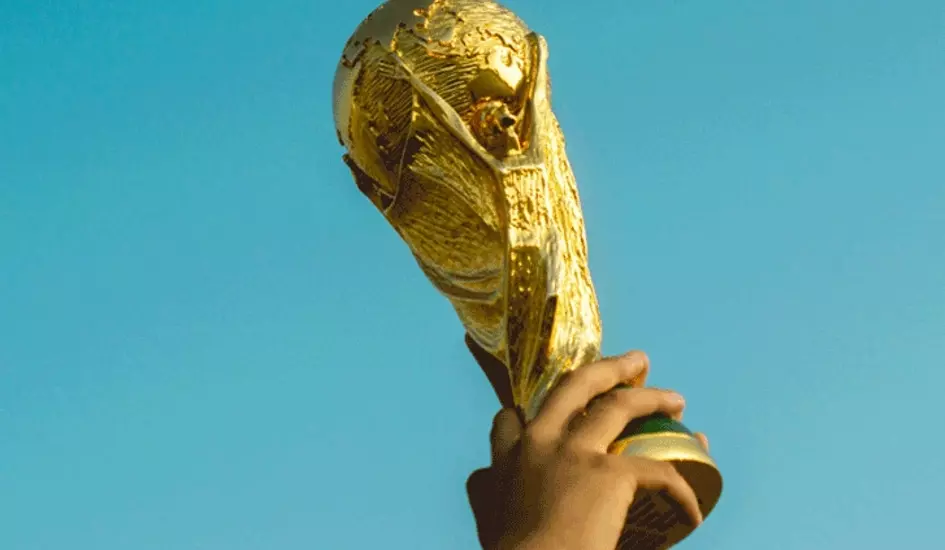 England is coming home, without the World cup... We're all a bit disappointed, but looking back, the World Cup was a great experience! It was great to see so many people all engaging with one another over a common interest, whether it's at the pub, at home, or even over social media.
The World Cup isn't unique in this way. There are many other popular events and trends that have a similarly large interest; Wimbledon, Wireless festival, and The Royal Wedding just to name a few. But with the World Cup so fresh in our minds, we thought it would make the perfect case study for how you can use these popular events in your marketing.
Using popular events in your marketing involves three stages; firstly, knowing your target market, secondly being creative in how you use current events and then finally, planning your action!
1) Do you know who you are marketing to?
The World Cup is a very popular event, (a peak audience of 26.5 million people watching Croatia vs England match!) but is your audience interested? For many businesses, seeing all the posts about the World Cup flooding all the social media channels can be a strong temptation to start marketing, but it's important not to forget who you're marketing is for!
Roialty did some great research into the type of people who enjoy watching football. Their research shows that "86% are comprised of males, and almost 47% are between the age of 25 and 34". This seems to be the prime football fan demographic, however, this is the World Cup! When the World Cup is on, even people who aren't usually big football fans will be watching and interacting with social media to cheer on their country.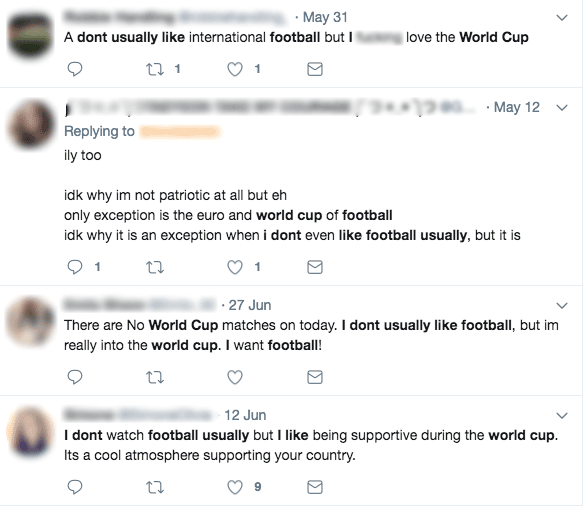 Could I use the World Cup to reach a new market segment of customers?
Potentially, you could simply tailor your regular marketing to target World Cup fans. This would help your businesses engagement with your current audience by interacting together with a trending topic, and also gives you the potential to reach new potential customers.
Key takeaway: When you tailor your marketing to the correct audience, it will have a greater positive effect.
2) How can you creatively use current events (like the World Cup!) in your marketing?
Content Marketing
Tailor your content marketing to take advantage of the World Cup trend. Including trending World Cup keywords and phrases can help your blog posts get noticed. Using Google Trends can help you to see what people are searching for. Including these topics can help to get your content seen, but it's important to remember to keep everything related to your business and brand.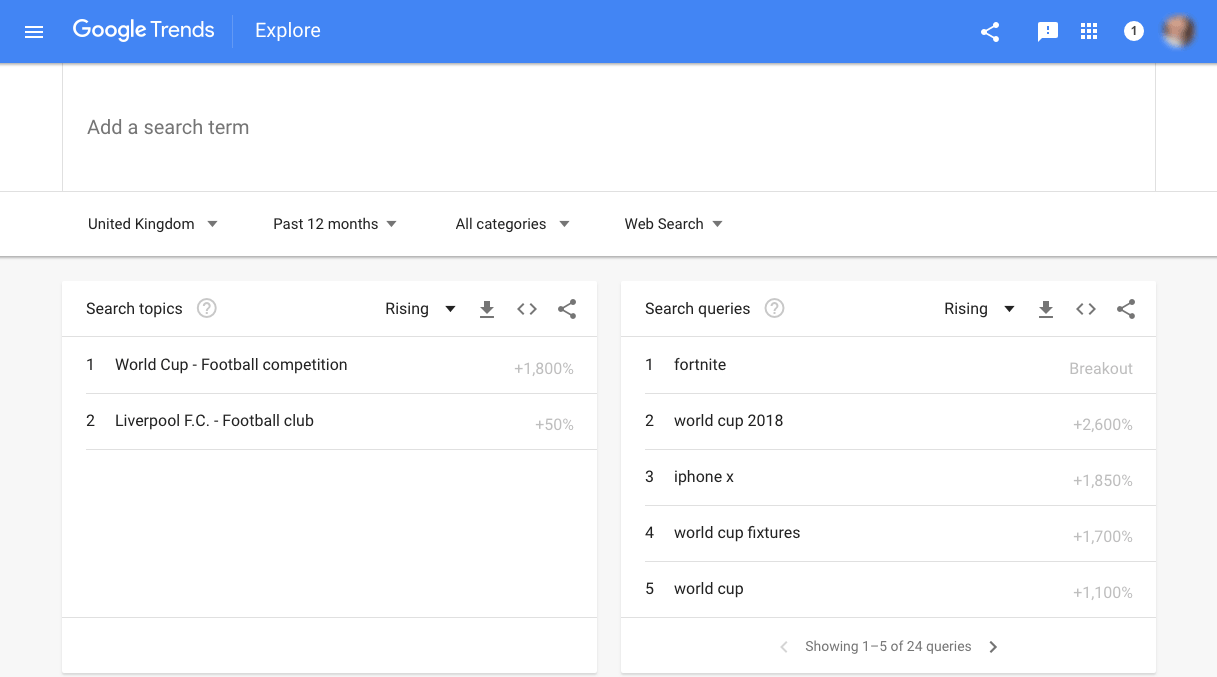 Social Media
When you're using the World Cup in your social media and content marketing, an important thing to think about is interactivity. Using interactive marketing can help to boost your post engagement and helps your business to reach a larger audience.
Twitter Polls - Using Twitter polls is a fun way to make an interactive World Cup post for your social media. Twitter polls should be easy to complete and should include less than 4 options so that people aren't put off with too many choices. They're not only great for encouraging engagement, Twitter polls also give you first-hand data on your audience's opinions.
A great example of a successful Twitter poll is FIFA's tweet. It received 43,500+votes!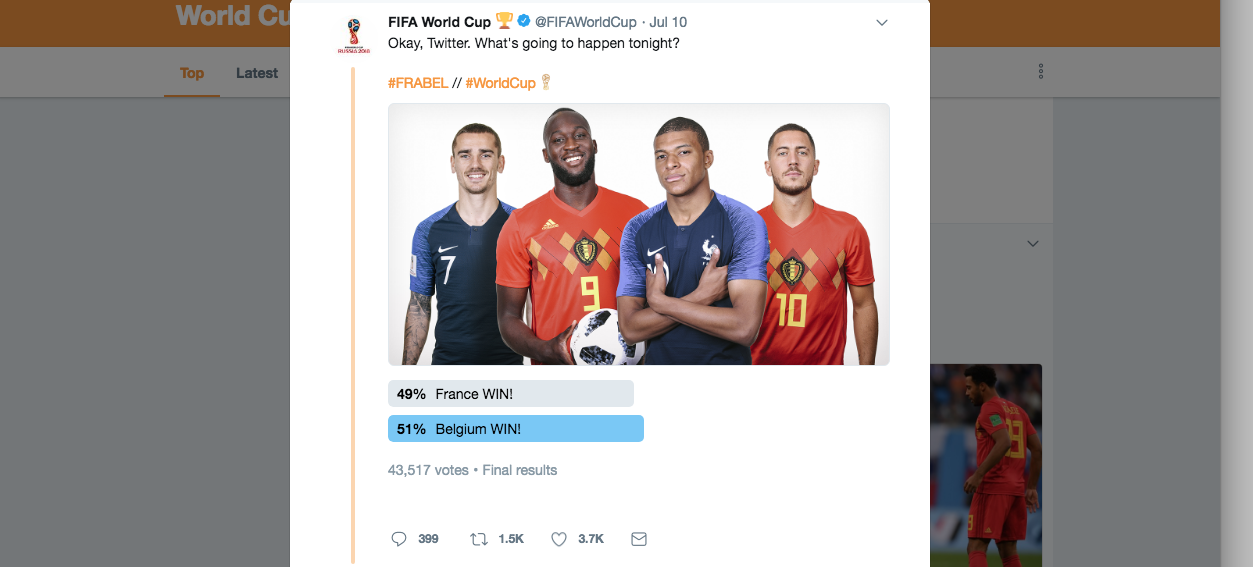 Giveaways/Competitions - Giveaways/Competitions have proven to be very popular on social media. Popular formats for these posts usually follow something similar to "like and re-tweet to enter..." or "Click this link to enter...". These posts usually get a lot of engagement, however, it's not all good. Many of the people who engage with these types of posts are often only interested in winning a prize, not with your business/brand and will likely unlike the post if they find out that they didn't win.
A great example of a World Cup giveaway us from 2game on Facebook.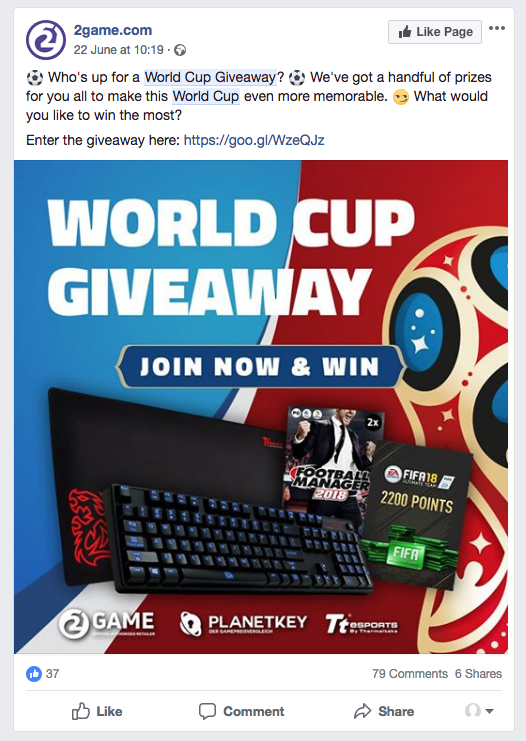 Use hashtags!
When games are being played, they have their own specific hashtags to follow for example,"#ENGCRO" being used for the England Vs Croatia football match". or #WorldCup for general World Cup posts and for when there aren't any games on.
RiteTag shows statistics for how specific hashtags are performing on Twitter. At the time of writing this blog, #WorldCup has 1012 unique tweets per hour, 5.5 million people exposed to the hashtag and 3750 retweets per hour!
Just a tip: try not to choose a side.
Choosing a side can potentially encourage fans of the opposing team to avoid your business. Keep social media posts neutral. For example, "Who do you think will win?" rather than "We hope England will win"
Brands who show their support for a specific team such as McCain UK can find success in marketing this way. This mostly works for them as their content is specifically targeted at the UK, however, their World Cup tweets aren't all positively received...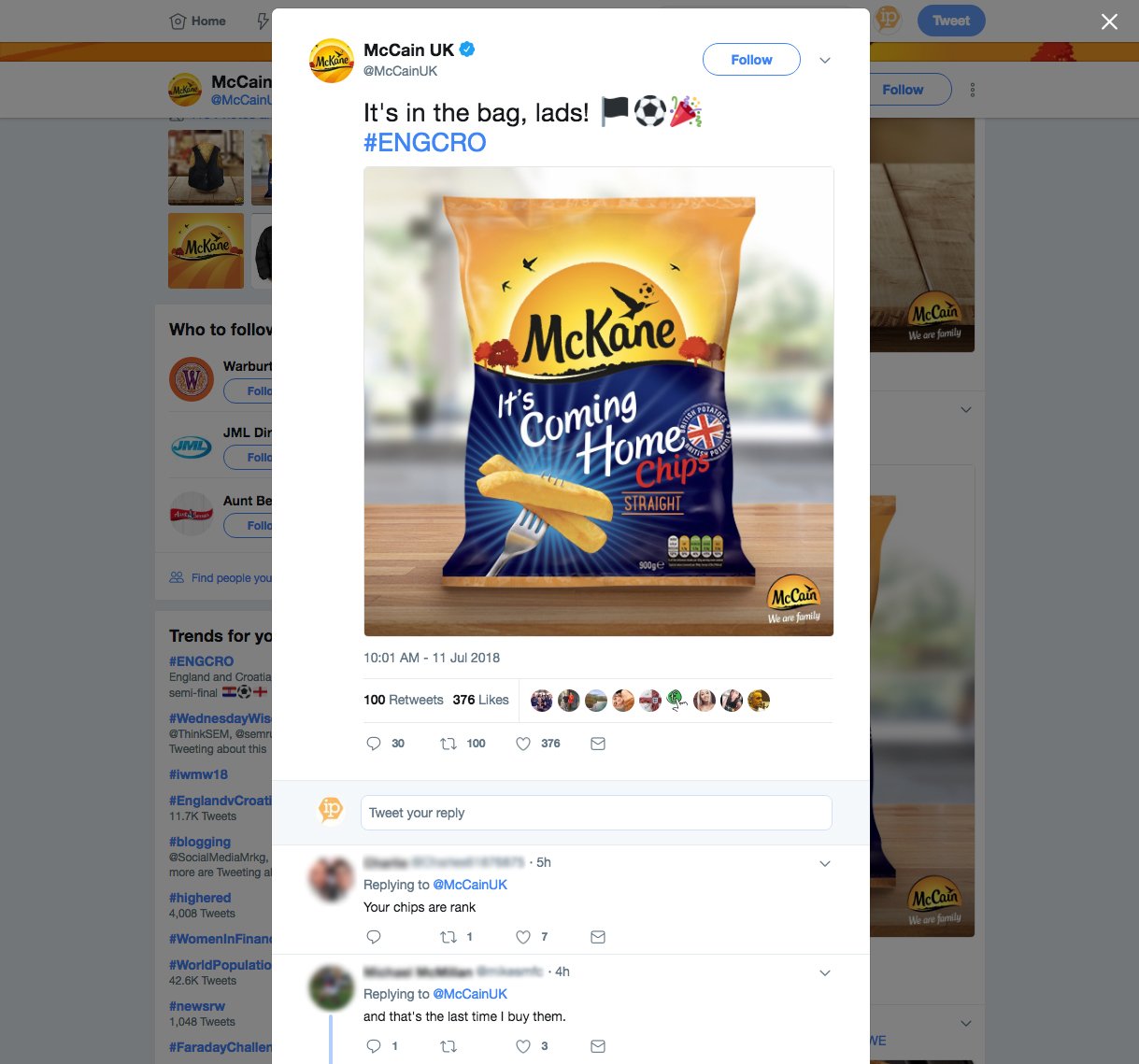 Sales.
Flash sales.
Flash sales are an excellent way to boost sales using the hype from the World Cup. An example that could be used for a social media marketing post promoting a flash sale would be "Buy X product online during the game for a 25% discount, and if X team wins, the sale will stay for the next week!", "Use code ENGCRO for 50% off during the England vs Croatia game!" or "If X team wins, these products will be 50% off!".
Virgin Trains give discounts for train ticket restrictions on the day of the England vs Croatia World Cup game.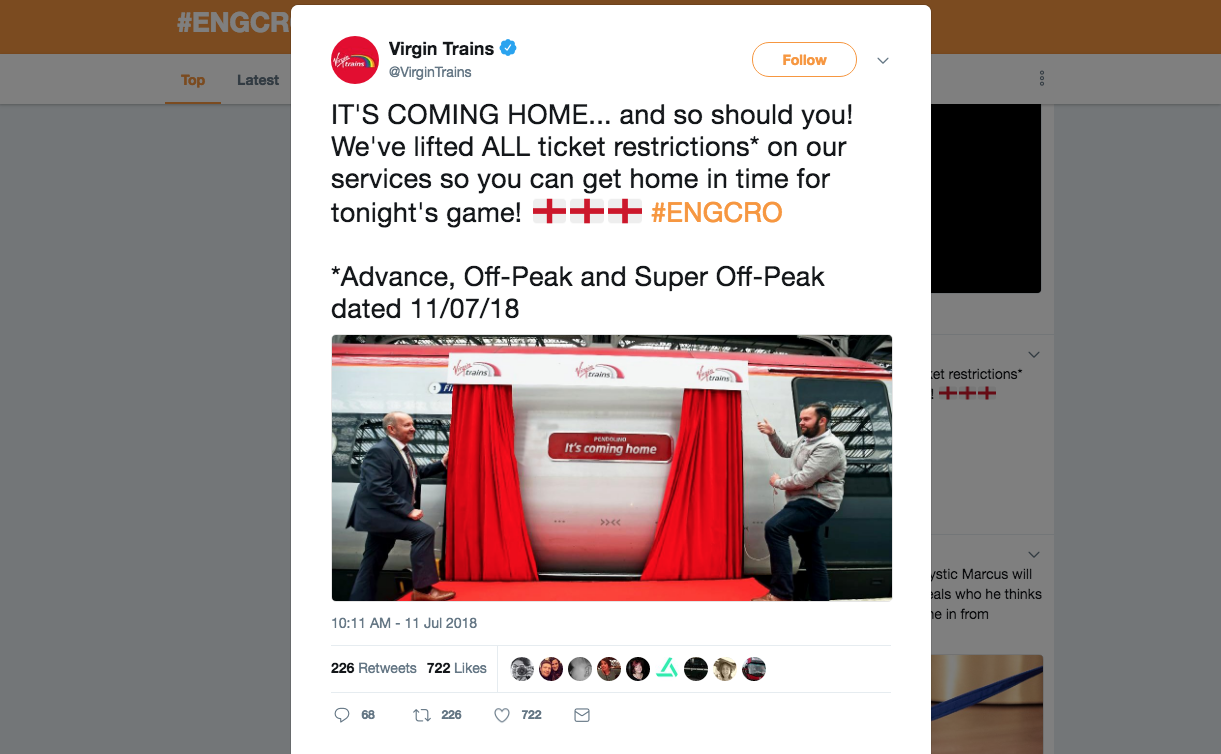 Can you connect your products/services to the event?
While watching the World Cup, Marks and Spencer noticed that Gareth Southgate was wearing a lot of waistcoats when he appeared on TV. Researching the topic on Google Trends shows a huge spike on July 4th after the England vs Columbia match as so many people were searching online for waistcoats. M&S connected their products with the World Cup and declared that Saturday the 7th July will be "National Waistcoat Day" to celebrate England football team getting to the semi-finals for the first time since 1990. They received a 35% increase in Waistcoat sales!
Read Marks and Spencer's blog post about this here.
Key takeaway: Research the event, make sure that you're following relevant hashtags and try not to be biased. Optimise your social media marketing to create engaging and interactive posts.
3) How can you plan your current-events marketing?
Current events may be...well, current, but planning in your action around these will make you far more efficient and pro-active rather than responsive. For example, most businesses plan their Christmas events months in advance, however, few think to plan other more specific events into their marketing calendars, such as the World Cup.
Get a calendar/ Optimise your existing calendar.
Getting a calendar will help you to keep the dates of the big events saved so that you have time to prepare your content for when it starts, and also a reminder so that you don't miss your chance!
Planning ahead.
Make sure that you plan ahead for your marketing. Create content before these big events happen and prepare the messages that you want to send. Leaving your planning too late could encourage the use of low-quality rushed posts that don't have a fair representation of your brand.
Plan spontaneity.
Plan to be spontaneous! This may sound ridiculous at first, but marketing doesn't always run on a strict schedule. Remember to plan to keep some time aside so that you can respond to all the engagement you'll be receiving from your new optimised posts.
Key takeaway: Plan events in a calendar, prepare your marketing in advance, and respond to engagement.
How can we help?
iPages includes many great features such as Scheduled Actions, Discount Codes, and Integrations to Twitter, Facebook, Instagram, and Analytics that can help with your World Cup Marketing. We also have a team of skilled Marketing and eCommerce experts who will be more than happy to help you with growing your brand and business online. If you have any questions about this post or want to get started with some World Cup marketing of your own, please don't hesitate to Contact Us.