Why Providing a Service For The Loss of a Pet Requires a Competitive Website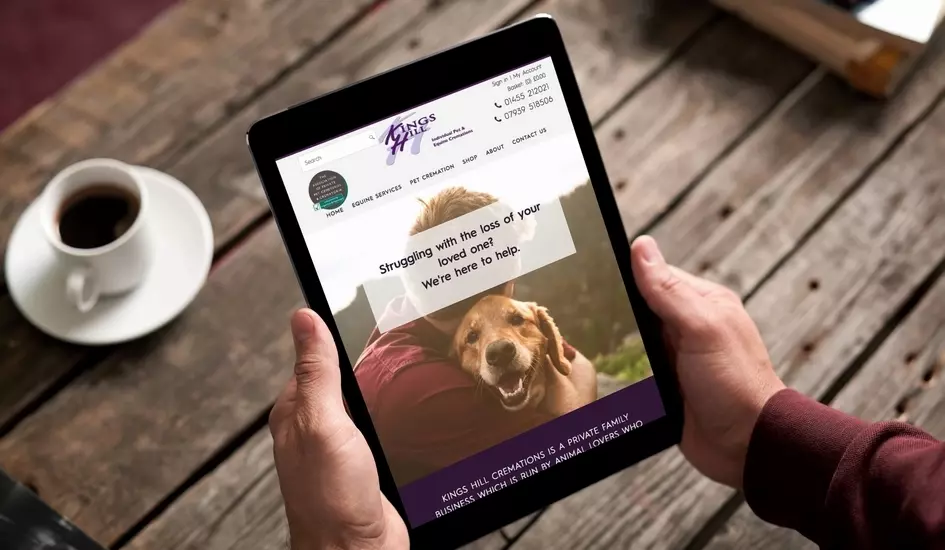 We are a nation of animal lovers; 49% of us own a pet, which means that there are over 20 million animals in homes in the UK. And for many their pet is a special member of the family, and their death can be traumatic and distressing.
The pet industry is worth around £4.4billion per year. Helping families through this difficult time is a business in itself, and surprisingly a really competitive one at that. We have been working with Kings Hill Pet and Equine Cremations since 2006. Initially they called up for a quote and I went into a long spiel about how sad it was when my Dad was cremated, and the pain surrounding that, and how pleased I was that there was a company wanting to offer a compassionate service to the bereaved. Bless Michael (the owner of Kings Hill) he did not interrupt, but quietly said as I finished my sentence "We're a pet cremation service". However, surprisingly it was my emotional response to the work that he and his family undertook that got us the job, and our relationship with Kings Hill has been ongoing. They did have a short time with WordPress (hosted on our servers), but it didn't work well for them as they struggled to keep it up-to-date, which is important in such a competitive market.
So at the end of last year Owen Shepherd (Michael's son) decided to go for a fresh look for his website, that was responsive, had live chat, and sold products online that could be customised by a pet's owner to preserve their pet's memory. It was also essential that the site reflected the individual service that Kings Hill offer because pets are often cremated "en masse" for profit reasons.
What did we do?
We basically created a whole new site that was in keeping with Kings Hill Pet and Equine Cremations' branding and reflected the caring professional nature of the company. Images were carefully chosen and we worked with Kings Hill's team to ensure that the copy was precisely what they wanted. Products were added as was the ability to customise them. The site was optimised and we helped with copy writing too.
Training was given to the team so that they could amend products, add in variants, optimise them and add customisation.
What does Kings Hill Pet and Equine Cremations say…
" We are really pleased with the new website that iPages has created for us.
Having worked with iPages for over 13 years we knew that we could trust them to redesign our website and create a site that reflects the care and attention that we give to all our customers. The design fitted well with our brand, and the eCommerce functionality is excellent and easy to use. The team at iPages listened to what we wanted, and made amends accordingly.
We also found editing the site really simple in comparison to WordPress. Creating our own products, or adding in variants and customisation was no problem. And if we want to add in stock management later that is also easy to do. Help was always on hand from the very friendly iPages team with suggestions on copy and how this will affect the site's performance on search engines.
Having the ability to add in Live Chat was also an advantage as our market is so competitive, and we wanted to be able to talk to our prospects as they browse our website and answer their queries immediately.
Thank you iPages for redesigning our website that is not only user-friendly, but reflects our personal, caring, and individual service."
Owen Shepherd, Kings Hill Pet & Equine Cremations
References: