Saved Basket & Favourites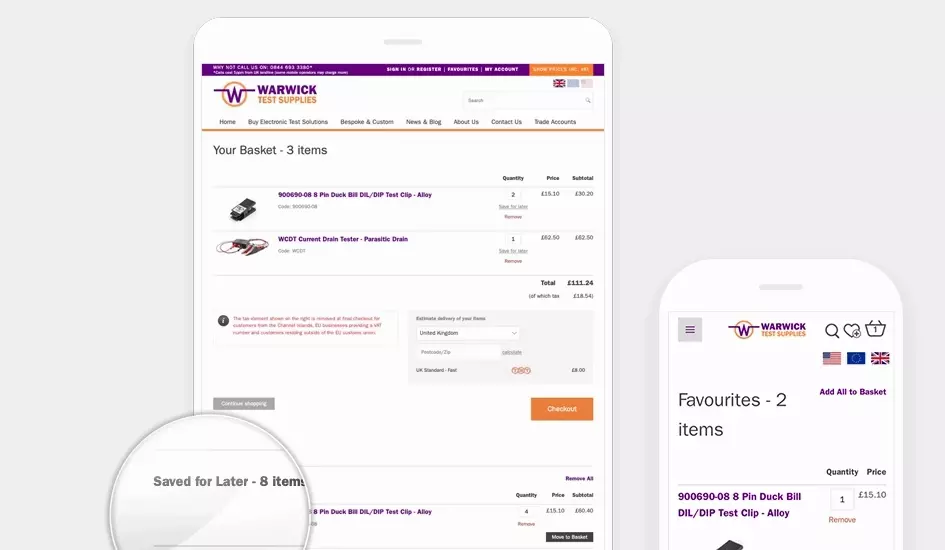 We're excited to launch two new eCommerce features for all iPages customers - Saved Basket and Favourites. These are excellent tools to help reduce cart abandonment and increase sales.
Saved Basket: This is where your customers can save items for later within their basket. This is for customers and guest alike and is held underneath your basket, prior to the checkout.
Favourites: This is where you can create a list of products to add to your basket, again and again. This replaces the existing Wish List.
How does a Saved Basket and Favourites help your eCommerce website?
Saved Basket and Favourites are both features that help provide customers with ways of interacting with your products, aside from going through the checkout.
According to Mercury Tide, as many as 8/10 customers on your eCommerce website will abandon their basket and leave without making a purchase. There is a wealth of research around why carts are abandoned. However, one proposed reason is that customers use your basket rather like a filing system for products they are interested in, although they may want to wait to make a decision.
By giving your customers another route to take, you can help them stay engaged with your site, allowing them to purchase later or repeat purchase. If your customers can't save their items, they'll need to navigate back through their site to put their basket back together again. Saving products to a Favourites list can act as a handy reminder, giving customers an overview of products that they know they want, but may have forgotten about.
These new nifty features are available to your customers and guests so you don't need an account to benefit from them!
How can you add a Saved Basket and Favourites to your iPages website?
You can add these by going to your eCommerce settings within your iPages admin area. You can read our support page here, or get in touch with the team if you have any styling questions or requests.
We look forward to getting your feedback.
Sources:
https://www.mercurytide.co.uk/blog/article/save-it-later-ecommerce-sales/