Broadleigh Bulbs Launches New Online Shop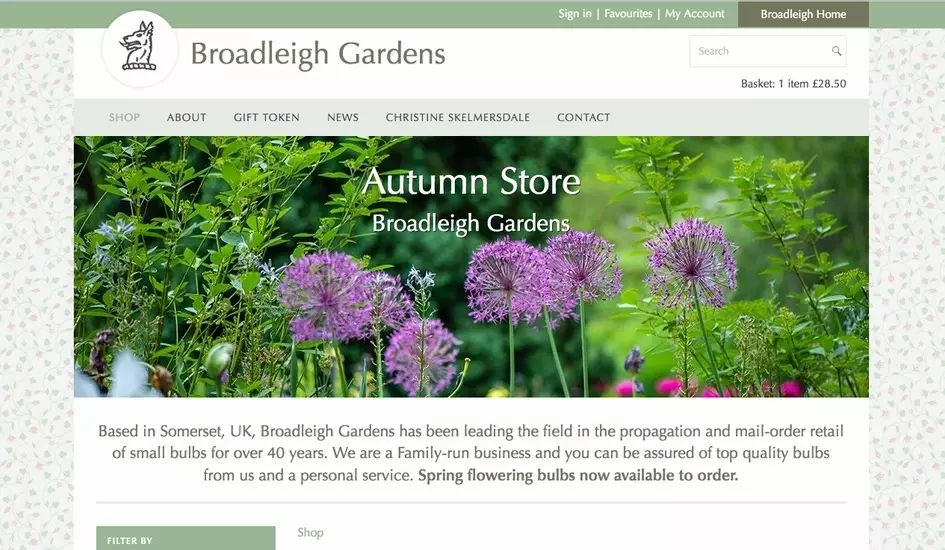 When we were approached to update the shop for Broadleigh Bulbs we felt not only honoured, but a little apprehensive. Creating the right online store for such an auspicious person as Lady Christine Skelmersdale was a challenge. Renowned in the gardening world, we knew that we had to find the right balance between clean design and tradition. However, with help from our friends at de Jager bulbs, who are helping with the logistics of the site, we were pleased with the outcome.
What is the business?
Broadleigh Gardens came under Christine's ownership in 1972 and is the country's foremost small bulb specialist. The site also sells a wide range of unusual herbaceous and woodland plants.
What did Broadleigh Bulbs require?
Broadleigh Bulbs required an updated eCommerce store that:
loaded quickly,
had excellent navigation,
was easy to edit,
has a simple checkout process
enabled both guest and account customers
managed sales order processing seamlessly
had comprehensive inventory management
managed customer relationships
had the ability to send email campaigns
worked with Google merchant centre.
At the same time the design of the site had to be sympathetic to the existing Broadleigh Gardens' website, maintaining the site's heritage whilst being contemporary.
This brief on its own would have been fine, but we were asked that the site would be ready to go live within a week!
What did we do?
With such a short turn around we knew that we only had 4 days to design and build the site! Fortunately de Jager were happy to put in the products, but we wanted to get the site ready for this before this work commenced.
As the site was completely bespoke we really were working from scratch, and there were some very late evenings as we grappled with the design to ensure that it was clean, but reflected the traditional values of Broadleigh's customers.
Fortunately we were able to fulfill the remit, using a soft print in the browser background and making the site more open. We maintained the green and pink colours of the existing Broadleigh Garden's site, but kept the site as clean and as open as possible.
What was Broadleigh Gardens' response?
Christine said:
"Well done!!I am really pleased with it, and the fact that I can update it so easily."

The feedback from Broadleigh's customers has also been excellent, so we are very pleased with how the project turned out, despite time constraints.
If you feel that your eCommerce website needs a refresh then why not get in touch?
You can view Broadleigh Gardens' new online eCommerce store here.